Hood County Texas Genealogical Society
<![if !supportEmptyParas]> <![endif]>
THE HANGING TREE
Hood County News – April 19, 2002
<![if !supportEmptyParas]> <![endif]>
<![if !supportEmptyParas]> <![endif]>
<![if !supportEmptyParas]> <![endif]>
<![if !vml]>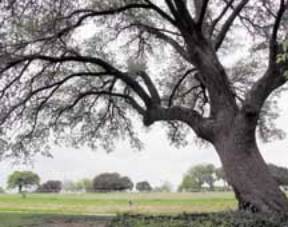 <![endif]>
<![if !supportEmptyParas]> <![endif]>
Granbury historian Mary Kate Durham almost had a hissy fit Tuesday night. That was because the Granbury Historical Commission wanted to designate a huge live oak tree on East Moore Street as Granbury's legendary hanging tree. That wasn't the tree used to hang convicted murderer Cooney Mitchell back in 1875, Durham argued at the Granbury City Council meeting. The real tree was farther east and is no longer standing, she said.
Granbury City Council members decided to designate the tree as a historic landmark, but declined to designate the tree in John and Jan Hines' yard across from the Granbury Cemetery as the legendary hanging tree.
They asked Granbury Historic Preservation Commission chairman Jake Caraway and city historical preservation officer Mary Saltarelli to come up with another name for the tree.
Council members also designated the huge live oak tree in front of the Peveler house at 801 Lipan Highway as a historic landmark, as well as designating it the "Granbury College President's Tree."
The Peveler house was once the home of the president of Granbury College. Part of the campus site is now the Granbury Cemetery. The tree has been growing since at least 1873, historians say.
Designation of both trees will protect them from destruction, Granbury mayor David Southern pointed out.
"It is so close to the highway that it's a concern," Southern said of the Granbury College President's Tree. If the tree wasn't protected, any future expansion of Lipan Highway might endanger it, said Southern.
Caraway and Saltarelli told the council that designating the Hines' tree as the legendary hanging tree didn't mean it was the real tree, but that local legend said it was.
"A lot of people in Granbury think that's the hanging tree," Saltarelli said.
"It is just a tree, it is not the hanging tree," insisted Durham.
The real tree was farther east at the corner of Barton and Reunion streets, Durham said. Her grandfather had witnessed the hanging and her father had shown her the tree numerous times, she stated.
If the Hines tree was designated Granbury's legendary hanging tree, people would soon begin to believe it was the actual hanging tree, Durham complained.
Durham took Saltarelli to task for the commission's recommendation, pointing out that she had told her where the actual tree had been located. Saltarelli protested that the commission made the decision anyway in spite of Durham's information.
Mitchell was convicted of killing Sam and Ike Truitt and the serious wounding of James Truitt in an ambush seven miles south of Granbury near present-day Canyon Creek, say historians. The March 1874 killings were the result of a feud between Mitchell and the Truitts over a lawsuit, says history. Several men involved in the killings were also sentenced.
Mitchell went to the hangman's noose claiming his innocence. Ever since, many of Mitchell's descendants have claimed he was hanged for a murder he didn't commit.
<![if !vml]>

<![endif]>
2002 HOOD COUNTY TEXAS GENEALOGICAL SOCIETY

<![if !supportLineBreakNewLine]>
<![endif]>
<![if !supportEmptyParas]> <![endif]>