Hood County Texas Genealogical Society
THE HOUSES THAT DAN BUILT
by Kathy Smith, Staff Writer
Hood County News - January 19, 1999
<![if !supportEmptyParas]> <![endif]>
<![if !vml]>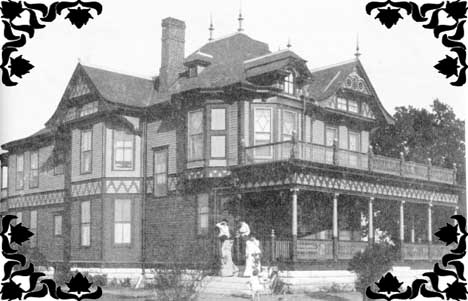 <![endif]>
One of the original Dan Cogdell homes, circa 1905. Home later burned and was replaced by the present 'Iron Horse Inn' at 616 Thorp Spring Road.
Cynthia Bell wanted to live in town. Her husband wanted to live in the country. They both got their wish, plus a tremendous historic treasure, when they found the Earl Cogdell house.

Tucked in at the end of Kinson Street in northwest Granbury, the Earl Cogdell house has had only two other owners in its over 80-year history. It sits on eight acres of farmland and is surrounded by grand oak trees including one 200-year-old live oak.

The Bells' home was built for Earl Cogdell, son of First National Bank founder Daniel (Dan) Cogdell, sometime before 1912.

It is believed that Dan Cogdell built the homes for his children as gifts, or to help them get started in their own lives.

Dan Cogdell moved to Granbury in the 1870s and built a home on nearby Thorp Spring Road. During the years, Cogdell would tear down his homes and rebuild much larger and grander houses at the same location.

Sometime after 1905, Dan Cogdell's house burned and once again, he rebuilt. That house, located at 616 Thorp Spring Road, is now the Iron Horse Bed & Breakfast. Cogdell family members referred to the home as the "small house."

A meticulous man with an eye for detail, Dan Cogdell travelled to East Texas to hand-pick the lumber used for his home. He wanted it to last a long time. The same care went into the houses built for the rest of the Cogdell clan.

There is at least one other Cogdell house in Granbury--the Dabney House Bed & Breakfast, located at 100 S. Jones St. and so named for Dr. Dabney who lived in the house for many years. The Dabney house was originally built for Dan Cogdell's daughter Zuma and her new husband, W.F. Juliff, as a wedding present.

The similarities between the Earl Cogdell and the Dabney houses, both Craftsman-style bungalows, are numerous.

Both have built-in china cabinets in the dining room and extensive woodwork throughout the houses. A butler's pantry separates the dining room from the kitchen in both homes, as well.

The Dabney house, like the Earl Cogdell house, has massive woodwork in the form of ceiling beams. The Dabney house dining room ceiling has pine beams in a circular or "wagon wheel" pattern. The dining room ceiling beams in the Earl Cogdell house are also made of pine, but are situated in a criss-cross or checkerboard pattern.

Both homes, as well as the Dan Cogdell house, have the original pocket doors. They're both in excellent working condition, which is very rare. Many people who have purchased old homes find that multitude of the house's original attributes have been removed or covered up, in an effort to "modernize" the house.

Cynthia Bell feels very lucky that so much of the original interior framework of the Earl Cogdell house has remained, or has been easy to get to. The wonderful hardwood floors are still intact and in good condition despite having been covered throughout most of the house with plywood.

It seems the houses Dan Cogdell had built for his children matched their personality and gender. "I look at this house as a basic man's house," says Bell, of the Earl Cogdell house. "No frills, just your basic comfortable home. I think Earl was like that--just your basic, simple man."

Dan Cogdell and wife Lucy had several children and all led very colorful lives. Some of their children moved from the area, but most of them remained in Granbury and Hood County and became ranchers or went into other family businesses.

With so many children--over six, Bell wonders if there aren't more "Cogdell" houses in Hood County. "Surely there were other houses built for the kids," Bell speculates. "The thing is, are they still standing?"
1999 HOOD COUNTY TEXAS GENEALOGICAL SOCIETY