Hood County Texas Genealogical Society
GAFFORD / HALE FAMILY
LIPAN, TEXAS
Contributed by Virginia Hale
<![if !supportEmptyParas]> <![endif]>
<![if !vml]>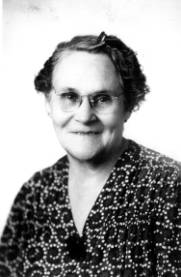 <![endif]>
Josie Hale Gafford McCuan
Edmond Carter Gafford (Ed) and Josie Hale married October 10, 1893 in Hood County, Texas. Ed and Josie had eleven children, were residents of Lipan, and were members of the Methodist Church.
Ed was born May 28, 1865 in Johnson County to William Gafford and Evelyn Bond. William and Evelyn were married in February 1857 when Hood County was a part of Johnson County.
Josie was the first child born to Madison Right Hale and America Jane Iles Reynolds on October 13, 1878. Right and America were married in Hood County on November 23, 1876.
Ed died from typhoid fever on November 18, 1918. Sadly their 11-year old daughter, Pauline, died from the same fever two weeks later on December 1, 1918.
Josie remarried six years later to Jim McCuan on November 22, 1924. His son, John McCuan, married Ed and Josie's daughter, Jewel.
Josie Hale Gafford McCuan died at age 77 on January 27, 1954.
Following are the descendants of Edmond Carter Gafford and Josie Hale:
NAME

BIRTH

DEATH

SPOUSE

CHILDREN

William Doyle Gafford

Sep. 16, 1894

Mar. 11, 1961

Essie Mae Vandergriff

Married

Dec. 17, 1911

Johnny Murphy Gafford

Bobby Don Gafford

Vivinee Gafford

William Dale Gafford

Joe D. Gafford

Wanda Marie Gafford

Floyd Right Gafford

Mar. 17, 1896

Mar. 1, 1944

Myrtle Melva Helms

Married

Dec. 7, 1913

Vollie Hugh Gafford

George Gafford

Randolph Gafford

David Conway Gafford

J. D. Gafford

Ima Jo Gafford

Florence Irene Gafford

Mar. 25, 1898

May 9, 1940

Walter Bryan Guinn

Married

Mar. 2, 1919

John Houston Guinn

Dozier Edward Guinn

James Byron Guinn

James Bartis Gafford

Jun. 8, 1900

Apr. 17, 1975

Mamie Earl Guinn

Married

Dec. 20, 1918

Melba Gafford

Nina May Gafford

Theopal Ladonia Gafford

James Bartis Gafford, Jr.

Ella Virginia Gafford

Lena Mae Gafford

Mar. 10, 1902

Apr. 29, 1973

Henry Mahlon Sublett

Married

Jul. 25, 1919

Charles Derwin Sublett

Pat Mahlon Sublett

Patsy Mae Sublett

Jewel Verna Gafford

Feb. 4, 1904

Mar. 22, 1988

John McCuan

Elizabeth Ann McCuan

Jimmy Joe McCuan

Billy Fred McCuan

Dollie Pauline Gafford

May 29, 1906

Dec. 1, 1918

Thomas Kern Gafford

Sep. 18, 1908

May 28, 1959

Ollie Reed

Married

Jun. 17, 1926

Peggy Nell Gafford

Bobbie Lee Gafford

Lois Latona Gafford

May 7, 1911

Jan. 15, 1939

Dan Tuggle

Married

Mar. 27, 1927

Robert E. Tuggle

Jerry Tuggle

Ida Bell Gafford

Aug. 27, 1913

<![if !supportEmptyParas]> <![endif]>

Ray A. Wharton

Nan Wharton

Barbara Wharton

Connie Wharton

Joe Lynn Gafford

Oct. 13, 1916

Aug. 11, 1980

Mable

Judy Lynnette Gafford

Martha Joe Gafford
Most of the Gafford / Hale family was interred at Evergreen Cemetery, just east of Lipan.
Irene Gafford and Bartis Gafford both married into the Guinn family, marrying a brother and a sister.
Lena Mae Gafford and her husband, Henry Sublett, were the parents of twins, Pat and Patsy Sublett.
Jimmy Joe McCuan died in 1978. Due to Jimmy Joe's outstanding service to the State of Texas as Director of the Industrial Accident Board, he was buried with honor at the State Cemetery in Austin, Texas.
Miss Ida Bell lives in Houston and is 85 years young. She is a beautiful woman and is close to her daughters and grandchildren, all residing in the Houston area. Miss Ida Bell returns to Lipan to attend funerals and to attend the annual Lipan Homecoming, held the first Sunday in June every year.
<![if !vml]>

<![endif]>
© 1998 HOOD COUNTY TEXAS GENEALOGICAL SOCIETY - ALL RIGHTS RESERVED