Hood County Texas Genealogical Society
<![if !supportEmptyParas]> <![endif]>
<![if !supportEmptyParas]> <![endif]>
J. T. Hopper, Sr. Services Tuesday
Tablet, December 7, 1967
<![if !supportEmptyParas]> <![endif]>
<![if !supportEmptyParas]> <![endif]>
<![if !supportEmptyParas]> <![endif]>
<![if !supportEmptyParas]> <![endif]>
<![if !vml]>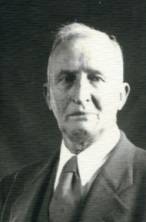 <![endif]>
J. T. Hopper, Sr.
Funeral services for J. T. Hopper, Sr. of Tolar were held Tuesday, December 5, 1967 at the Tolar Church of Christ at 1:00 p. m. The minister, Welton Nickel officiated. Mr. Hopper, who was 95, died Monday, December 4, in the Granbury General Hospital.
A native of Van Zandt County, he was born September 25, 1872, to Louisa Boyd and George Mifflin Dallas Hopper. He was married to Sallie Estella Gray on January 2, 1901, in Jack County, Texas, and they moved to Tolar in 1926. Mr. Hopper was primarily a farmer but did operate a hardware and grocery store in Tolar for a few years. He was a member of the Church of Christ.
Survivors are his wife, three sons: J. T. Hopper, Jr. of Ft. Worth, Ira and Carvel Hopper of Lampasas and a daughter, Mrs. L. P. Johnson of Dalton, Nebraska, five grand children and 12 great grandchildren.
Graveside services and burial were at 4:00 p. m. in the Jacksboro Cemetery, Jacksboro, Texas. Pall bears were Buster Smith, Morris Wood, Vernon Newman, Alan Rose, Henry Lewis and Virgil Goforth. Martin's Funeral Home was in charge of arrangements.
<![if !vml]>
<![endif]>
Contributed by Jo Ann Hopper
2002 HOOD COUNTY TEXAS GENEALOGICAL SOCIETY
<![if !supportEmptyParas]> <![endif]>