Hood County Texas Genealogical Society
GRANBURY CEMETERY RECORDS
Granbury, Hood County, Texas
Compiled by Mary Kate Durham
Updated 1993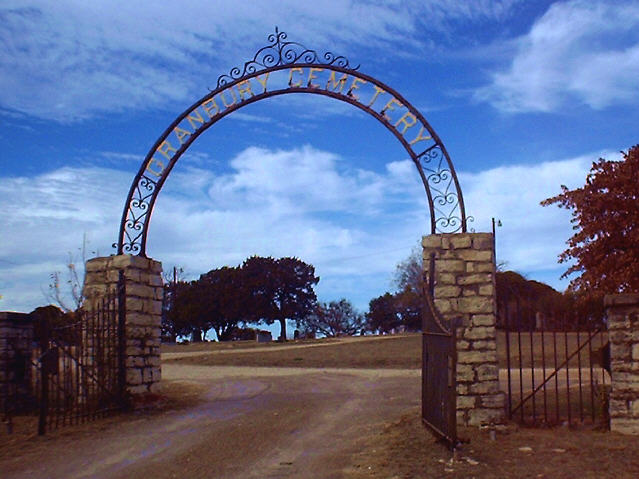 Granbury Cemetery
Photo Courtesy of Wayne Moyers
Granbury Cemetery, or College Hill Cemetery as some old-timers may say, sits on a hill eight blocks north of the Granbury town square. A great part of the area's history lies resting here. Along with our many families you will also find General Hiram B. Granbury, Jesse Woodrow James, and a not-so-notable bird dog named Rex. From the War of 1812 to Vietnam, veterans of many wars are found here.
This record was completed in May 1989 and is as accurate as can be done by amateurs. Members of the Elizabeth Crockett Chapter of the Daughters of the American Revolution (DAR), the Hood County Historical Society, and others assisted with the tabulating.
Many epitaphs have been included, but not all; so excuse us if yours is not found. No slight is intended.
So very many graves cannot be identified because there is only a fieldstone marking the location. It is sad that those many persons are lost to us now. A few of the very old markers can no longer be read. However, every effort was made and even a part of the inscription is included whenever possible.
The location of the markers is noted by lot numbers that correspond with a map of the cemetery. The west portion was created new at the time of World War II. Those lot numbers will be preceded by an "N." The second new section is on the south in the area around the water tower. This is designated by a prefix of "SN." Maps of the cemetery are displayed at the Hood County Library and the Granbury Depot. Copies are available for purchase as well.
---
© 1989, 2000 MARY KATE DURHAM
Permission granted by Mary Kate Durham to the Hood County Texas Genealogical Society for uploading to its internet web site for genealogical research.
---
~ Web Page by Virginia Hale ~
2000 HOOD COUNTY TEXAS GENEALOGICAL SOCIETY